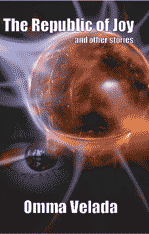 The Republic of Joy
I have just released my first short-story anthology, The Republic of Joy (Lulu Press, 2006).
Quote
Congratulations! Your registration was successful and you are now a fully accredited Citizen of the most advanced and prosperous society on Earth. Our population growth rate is currently stable at 0.004% and our currency, cybercash, is the world's strongest currency. We combine the most efficient
direct-to-registry VRML compiler with Earth's top hacker programmers and the latest in Japanese touch-pressure suits to bring the exquisite beauty of our very special city to your own personal Capsule.
Your current contract runs for five years, until 2418. Good Citizens will be invited to join our lifetime renewal scheme.
In just a few moments you will be automatically uploaded to Paradise Plaza, our city square, for your inauguration ceremony, which includes a tour of the Republic, and a choice of home and employment. If you have any queries, please contact your local ZapStation, where our friendly Borgs are waiting to assist you.
Welcome to the Free World. Welcome to the Republic of Joy!
Synopsis
The Republic of Joy, the title story, is set in the far future, where a chilling dystopian society is threatening to destroy the very thing that makes us human - our spirit. When Lower Lalu meets Newbie Veritas_7, she suddenly begins to question her entire world - why so many Citizens disappear, the real purpose of the Republican Knights and, ultimately, the truth about her origins. When a meeting with the Emperor looms, Lalu must choose between specious honour and a deadly freedom.
The Silent Boy came second in the UK Authors 2004 short-story competition. Of the sixteen short stories in this collection, eight have never been published before. The stories are categoriesed by genre, with Science Fiction, Romance and Drama all represented.
Merchandise
It is now possible to purchase merchandise for The Mackerby Scandal.
Blog
For more information on current writing projects, please see my blog.